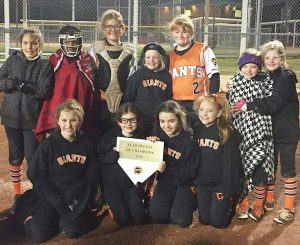 The Birmingham Giants 10u Softball team won their third straight tournament on Saturday in Millbrook, moving their season record to 11-4. In Game 1 of pool play, the Giants matched up with the Renegades 08. Alyna Morgan, Kaydence Hays and Kylie Snowden all pitched for the Giants and at the plate, Alyna Morgan (1), Piper Rowe (1), Sophie Gromko (1), and Kaydence Hays (1) all had hits for the Giants in the 8-6 loss.
Game 2 of pool play, the Giants returned to their dominant form. Kylie Snowden started the game in the circle, pitching all 3 innings, allowing just 1 seeing eye single, while fanning 8 on 37 total pitches.  Piper Rowe (2B), Sophie Gromko (1), and Aubrey Liveoak (1) had hits and the Giants drew 6 more walks (Alyna Morgan 2, Piper Rowe 1, Aubrey Liveoak 1, Kam Patton 1, and Hailey Nichols 1 and Chloe Condray 1) a the Giants coasted to a 5-0 win.
The win entered the Giants into the Gold bracket and matched them in the first game of bracket play with the T Town Thunder. In a game that would see 3 extra innings of tie breaker rules, the Giants would battle their way to a 5-4 win. In the circle, Kylie Snowden (6-0) pitched all 6 innings, allowing just 4 runs on 4 hits, while striking out 15( a new under 11 record for the Birmingham Giants) At the Plate, Aubrey Liveoak (1), Kaydence Hays (1), who drove in the eventual game winning run, Ryliegh Hall (1), and Hailey Nichols (1) all had hits for the Giants in the win. The Giants had for the 3rd week in a row, moved into the Championship game to face the warriors.
In a 3 inning championship game because of the cold, Kylie Snowden (7-0) tossed the Giants 55 no hitter all time, allowing no hits over the 3 innings and striking out 9 more hitters, giving her 33 on the day. At the plate Kylie snowden had the Giants only hit, and the ame came down to the Tie breaker rule, which the Giants prevailed, to take home their 3rd straight tournament championship.
The Giants play this saturday in Fultondale.