Playing in their 3rd 9u tournament of the fall, the Birmingham Giants 9u baseball team, captured their 2nd top 2 finish of...
The Birmingham Giants 11u won their second tournament of the 2018 spring season in pelham on saturday, running their season mark to 8-6. In...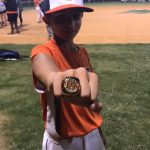 The 11u Birmingham Giants rolled off 4 straight victories saturday on their way to their first tournament win of the fall. Talen Whetstone (1-0)...
In their first tournament playing up in the 12u division, the Birmingham Giants 10u team posted a 4-0 mark, grabbing the championship....