The 05 Birmingham Giants after finishing 2nd in their first tournament of the fall, came home champions, finishing first in their championship, running through...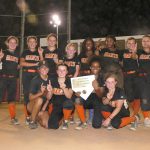 The 06 Birmingham Giants after starting slow in their fall campaigned rolled through bracket play coasting to their first tournament win of the season....
The Birmingham Giants have signed a deal with Mizuno USA to become a Mizuno exclusive team, wearing all Mizuno apparel.
Ainsley Boyd and Goose Reed combined to toss a no hitters to seal the State championship for the Birmingham Giants 06 rallied after an...