The Birmingham Giants 10u  Softball team raised their season record to 26-14-2 on the season with the completing of their latest tournament on saturday...
The 06 Birmingham Giants rolled off 4 straight victories on saturday in columbiana to bring home a tournament championship, their second of the fall....
The Birmingham Giants 10u Softball team won their third straight tournament on Saturday in Millbrook, moving their season record to 11-4. In Game 1...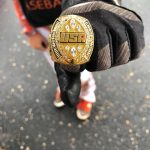 The Birmingham Giants 7u, fresh off their second state title, followed that result with a USA Playmakers World Series title on Friday, Saturday and...