Playing in the Grand Slam Tournament in Alabaster, the Birmingham Giants 11u Softball team, rolled off 5 straight wins on the way...
The Birmingham Giants 13u Baseball team finished second in their tournament on saturday, posting a 2-1 mark. In game 1 of pool play the...
Playing on the turf fields in Albertville, the Birmingham Giants 10u Softball team grabbed second amongst some stiff competition. In their first...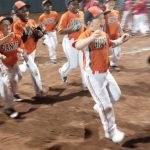 Playing in their 2nd ever tournament, the Birmingham Giants 7u hit their way to an impressive 4-0 mark, and captured their first tournament championship....