The Birmingham Giants 06 continued the good play as of late, on saturday making their way to the championship game. Starting their day with...
The 06 Birmingham Giants rolled off 4 straight victories on saturday in columbiana to bring home a tournament championship, their second of the fall....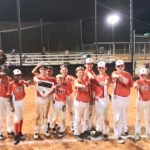 The 11u Birmingham Giants won the organizations 7th state tournament title on saturday in Boaz after posting a 4-0 mark against the competition. The...
The 10u Birmingham Giants posted a 5-1 record this weekend in Hoover, and brought home their 2nd tournament victory of the fall. Starting their...