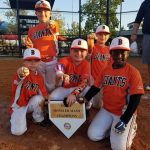 The 8u Birmingham Giants closed out their final tournament of the fall with another tournament win, and pushing their fall record to 13-3 and...
Raising their season record to 34-3, while winning their 26th straight game, the 07 Birmingham Giants won another tournament on saturday in Boaz. In...
The 8u Birmingham Giants finished 2nd in the USSSA State tournament held in hoover. In their opening pool play game, the Giants were matched...