10u Birmingham Giants raised their season mark to 29-14-2 with their 3rd place finish on saturday in millbrook. Leading off their first pool play game, the Giants took on the Her-Icanes. After a scoreless game through 3 and a half innings, the Giants broke through in the bottom of the 4th with a Triple from Aubrey Liveoak, driving in 1 and later scoring on a pass ball. Kylie Snowden allowed just 2 hits over 4 innings, striking out 3 for the 2-0 win.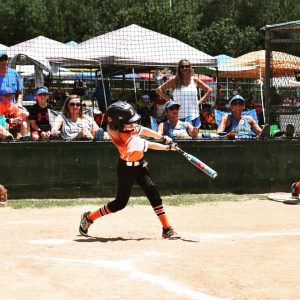 In game 2 of pool play, the Giants were matched up with the T town Thunder. Kaydence Hays allowed just 4 hits over 3 innings while striking out 4 as the Giants tied 2-2. At the plate Alyna Morgan (2), Piper Rowe (1), Sophie Gromko (1), Kylie Snowden (1), Ryliegh Hall (1), Ava Brand (1), and Hailey Nichols all had hits for the Giants.
Their 1-0-1 record seated the Giants 10u 3rd moving into bracket play to face the Sharks.
In a game that was not close, the Giants jumped out to a 9-1 through the first 4 innings, the sharks scored a few runs late to make the score a little closer, 9-7. Kylie Snowden struck out 5 over 4 innings, and the Giants offense got hits from Alyna Morgan (2, 1 3B), Kaydence Hays (1), Ryleigh Hall (2), and Chloe Condray (2) to power the 9 run outburst.
The win moved the Giants into the Semi Final game to face the Thunder 10u. Kylie Snowden took the circle allowing 5 hits over 3 innings, while striking out 6, and at the plate Alyna Morgan (1), Kaydence Hays (2), Sophie Gromko (1), and Ryleigh Hall (2) had hits as the Giants dropped a close 5-4 game, finishing 3rd.
The Giants travel to Gulf Shores to play in the 10u world series this week.