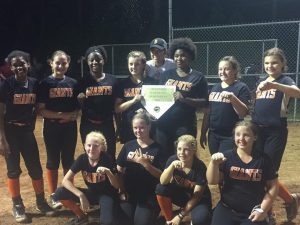 The Birmingham Giants 06 continued the good play as of late, on saturday making their way to the championship game. Starting their day with a match up with Intensity Softball, the Giants wasted no time, posting 9 first inning runs on their way to the 12-0 win. Ainsley Boyd struck out 6 over 2.1 innings, allowing just 1 hit and Madison Miller (1), Madison Feltman (2), Kamile Carter (2 2 HR) (becoming the 2nd Giants softball player to hit 2 home runs in a single game) Ainsley Boyd (1) and Mallorie Thompson (1) all had hits to power the Giants offense in the win.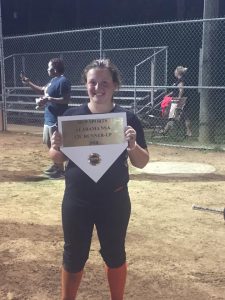 In game 2 of pool play the Giants were set to play Kryptonite 06. The Giants struggled defensively in the contest and at the plate only received hits from Kamile Carter (2B), and Mallory Horton in the loss.
The Giants moved into bracket play with a 1-1 mark and were set to play Outkast 06. Ainsley Boyd again took the circle allowing just 1 run over 3 innings while striking out 5 and at the plate Madison Miller (2), Monica Rose (1), Anna Grace Bush (2B), Lailah Player (2B), Mallory Horton (3B) and Leah Holstein (1) all had hits in the win. Th win moved the Giants 06 into the championship game to face off with Kamora.
In the Championship game, Ainsley Boyd tossed 3.2 innings,  striking out 2 and Mallorie Thompson got out of a bases loaded jam on 2 pitches but the Giants came up on the short end of a 6-5 game. Hits from Kamile Carter (1), and  Monica Rose (2, 2 2B) both had hits for the Giants as they finished 2nd.