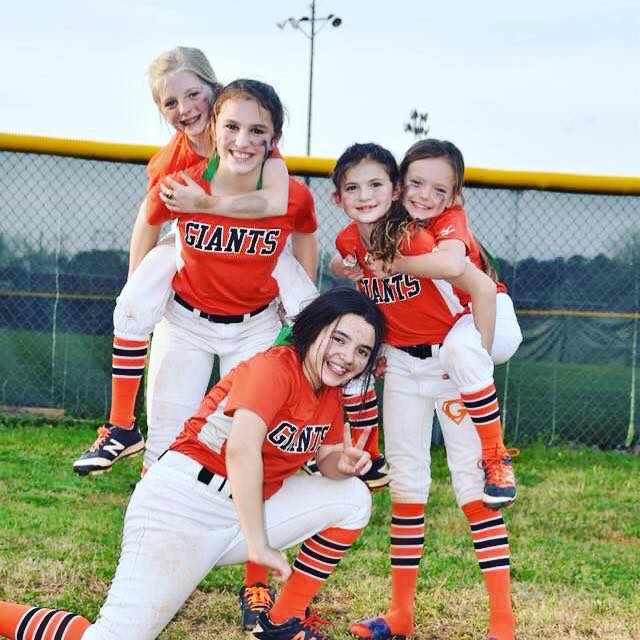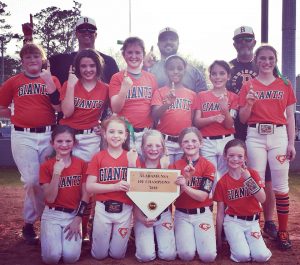 The Birmingham Giants 10u Softball team posted a 3-0 mark on their way to winning their first Tournament of the season in their second tournament of the spring. After some close games in their first tournament the Giants rolled through their second tournament games , 6-4, 13-1 and 7-0. In their first pool play game, the Giants faced off with the prospects. Alyna Morgan started the game in the circle, striking out 1, followed by Aubrey Liveoak, and Kylie Snowden (1-0), both of whom struck out the side in their inning of work. At the Plate Alyna Morgan (HR), Piper Rowe (1), Sophie Gromko (2), Aubrey Liveoak (3B), Kaydence Hays (1), Kylie Snowden (1), Ava Brand (1), Kam Patton (1), Chloe Condray (1), and Ryliegh Hall (1) all had hits for the Giants in the 6-4 win. 
In game 2 of pool play Kaydence Hays (1-0) took the circle for her first start of the season and tossed the Birmingham Giants 54th no hitter of all time, tossing 3 innings, walking 4 and striking out 4. At the plate the Giants used a 13 hit attack (Alyna Morgan 1, Piper Rowe 2, Sophie Gromko 2, Aubrey Liveoak 1, Kaydence Hays 2, (1 2B), Kylie Snowden 3B, Ava Brand 2, Kam Patton 1, and Hailey Nichols 3B) and 3 walks to power their 13 runs. The win moved the Giants into the championship game to again play the prospects.
In the Championship game Kylie Snowden (2-0) began the game by striking out the side, on her way to setting a new Birmingham Giants  under 11 year old record for strike outs (11), (over 11u record is 10), allowing just 2 hits, while walking none in the 8-0 win. The Giants offense received hits from Piper Rowe (1), Sophie Gromko (2), Aubrey Liveoak (2, 1 3B), Kaydence Hays (1), Kylie Snowden (2), and Ava Brand (2 , 1 2B). The win evened the Giants record at 3-3 moving into their tournament this weekend.