The Newley formed Birmingham Giants 10u softball team played in their first tournament on Saturday in Millbrook, and for most of the girls on the team, this was the first time competing in a 10u kid pitch setting.
In their first pool play game the Giants were matched up with the Red Hots.
Autumn took the circle to deliver the first pitch of the season and pitched 1.2 innings allowing just 3 runs, while striking out 4 and Catie Brooke recorded the the final out for the Giants in the circle.. At the plate, the Giants got a hit from Kaydn (1), but drew 6 walks, with Ryleigh and Kadence scoring the 2 Giant runs.
The next pool play game matched up the Giants with Shokwave. In the first inning the Giants wasted no time at all, scoring 6 runs on 5 walks and 3 hits, propelling them to their 12 runs on 5 hits with 13 walks. ( Autumn 2, Albre 1, Ava 1, and Lacie 1). Catie Brooke started the game in the circle for her first win as a Giant and the teams first win ever, and Autumn closed out the final 2 out for the victory. Giant runs were score by Piper 1, Ryleigh 2, Alyna 2, Kadence 2, Albre 2, Ava 2, and Autumn 1. The win put the Giants 1-1 going into bracket play.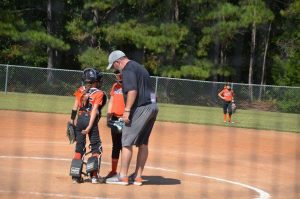 In bracket play the Giants 10u faced off with the Jaguars. Autumn started the game in the circle , pitching 3 innings allowing just 1 hit and 4 runs, and Catie Brooke closed out the game for the Giants pitching the last inning and Hailey caught all 5 innings for the giants. Offensively the Giants were led by Albre (1), and Autumn (1) in the 5-1 loss.
The Giants play again this saturday.