The 12u Birmingham Giants picked where they left off in spring season to begin their fall campaign 2-0 in Boaz , winning the rain shortened tournament.  Through their last 3 tournaments (last 2 in the spring and their first in the fall), the Giants have posted a 10-2 mark in their last 12 games.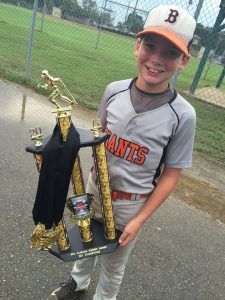 In game 1 Jarod Latta(1-0) took the mound, notching 7 strike outs in 3 innings, also owing just 2 hits and 2 runs, and new Giant Bryant Akridge struck out the side on 10 pitches to wrap up the 6-2 win over the dirt bags. At the plate the Giants offense piled up 6 runs on 8 hits , hits came from Carson Berry (1), Bryant Akridge (1), Sylas Amick (2), Jarod Latta (2, 12b), Kevin Hurley (1), and Egan Lowery (1).
In game 2 , the Giants faced off with the Shockers. Eayan Thomas(1-0) started the game on the hill going 3 innings, striking out 3, allowing just 1 hit and 2 runs, before giving way to Carson Berry, who struck out 1, working a scoreless inning in the 11-2 win.
Offensively the Giants were led by Carson Berry (3), Gavin Clanton (3),  Sylas Amick (1, HR), Bryant Akridge (2), KJ Beck (1), Kevin Hurley (2), Eayan Thomas (2), and Egan Lowery (2),  to go with the 16 hits the Giants also drew 3 walks, Peyton Jackson (1), JB Landrum (1), and Eayan Thomas (1).
Giants pitching finished the weekend, striking out 14 in 8 innings, while allowing just 3 hits, while offensively they struck out just 4 times, while amassing 24 hits and drawing 9 walks.